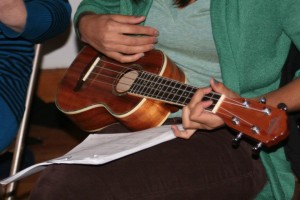 SyraUke is "An occasional anti-virtuosic come-one-come-all Syracuse  ukulele conflagration extravaganza!"
We're just a group of people who get together and play. Some of us are amazing musicians, some of us never played a uke before; many of us are somewhere in between.
We meet about every 2 weeks on Saturday afternoons. In the summer we try to meet in Thornden Park.  Other times, we meet at The Art School in the Art School, which is at 1003 E. Fayette Street (corner of South Crouse–the Spark building), back storefront near the parking lot.
Beginners and newbies welcome. We have extra ukes and will show you how to play.
Check out our group on facebook; join our listserv by sending Joanna an email (at joanna.spitzner at gmail dot com)